Website designs built with your end-goal in mind.
A successful website design should advertise your brand and services while also generating new leads. Since the internet marketing industry is competitive, you must stand out.
Our custom websites are created with the following main goals in mind:
Cutting-edge responsive design

Client-centered design

Search engine optimized design

No downtime
Since we reside here, we are familiar with the culture, geography, and business practices. We have our ear to the ground in Las Vegas, and we'll help you outperform your competitors.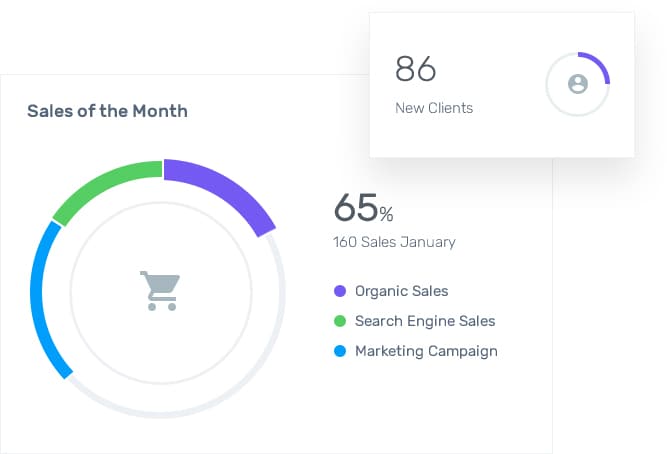 Work With Sly Nerds to Gain Improved Online Visibility
We specialize in assisting local businesses in Las Vegas with creating outstanding websites and promoting their services profitably. We were born and bred in this town, and we're committed to seeing it thrive.
As a result, we understand when you talk about your firm and what you're attempting to accomplish. If you've previously been dissatisfied with your online presence and are seeking a local and experienced group of Las Vegas web design pros to offer you a website design service that aligns with your specific needs, you are in the right place.
Make Your Las Vegas Website Stand Out
Your company's website makes the initial impression. Sly Nerds will build a good user experience and solidify your brand presence regardless of your company's size or industry. Our bespoke site designs can help you stand out in a competitive sector, regardless of the type of people you're trying to reach, the size of your competition, or the type of products or services you offer online.
We are adept at creating unique frameworks that your firm can use to implement complicated website functionalities. With many years of experience in the Las Vegas website design market, Sly Nerds is capable of offering unique website solutions to hundreds of businesses across the country. We are ready to be your next web design agency, so you can stop looking for Las Vegas web designers.
Engage and Convert Web Visitors
How many times have you visited a website that looks like it was created in the 90s? Do you want to connect with the firm and inquire about their services because of that website, or do you want to keep looking for a modern website that shows the company cares about their reputation and the form of experience they provide to their clients?
This is a regular occurrence, especially as more people turn to the internet to discover all they need (from a restaurant to a home service provider that can help fix their air conditioning unit or plumbing). Here's where Sly Nerds comes in.
For many years, our team has been producing responsive, attractively designed websites, and we continue to get training to stay on top of the current design styles. We collaborate with our clients to understand their business, what a "qualified lead" is, how their customers find them, and how to make a new, effective website.
We are a strategic Las Vegas web design firm. We create visually beautiful, high-performing websites that are specifically matched to your company's demands.
When you hire Sly Nerds, you'll work with a creative and talented Las Vegas website design team. We'll also give you a dedicated
Website Design in Las Vegas That Meets Your Specific Needs
Website Design That Attracts Attention
Sly Nerds creates websites that keep visitors coming back. A visitor's decision to stay on the site or go elsewhere takes a quarter of a second. A website that attracts the attention of your visitors establishes your company's authority. Your website can be the first impression of your organization for a visitor conducting research. Make certain it's a great one.
Custom Website Design for All Screen Sizes
It shouldn't matter if your visitor is on a computer, tablet, or smartphone. They should all have a similar experience. All of our websites are responsive, meaning they adjust to the size of the screen being used. Regardless of the technology, make sure your visitors have a positive impression of your company.
Website Design That Offers Positive User Experience
Our web design service makes it as simple as possible for visitors to obtain the information they seek. If a visitor can't find what they are looking for, they'll go somewhere else. No matter where a visitor is on your website, they should never have to click or navigate more than twice to get from one point to the other. All of our web design at Sly Nerds is made user-friendly by structuring your website's navigation, which keeps people on your site and converts them to customers.
Website Design Optimized For Local SEO
Is your website merely a digital business card, or do clients locate it on a variety of platforms? Google, the world's largest marketing engine, is the most popular platform. It is used to compare and purchase things. If your HVAC company's website doesn't show up in local searches, it's as if your business doesn't exist.
That's where we come in. Every page on your site is optimized for a keyword linked to your products or services. As a result, more people will visit your website and become your convert into consumers.
Website Design For Startups
When we deal with a new web client or even an existing web client, we make sure that the website design takes into account the branding that currently exists. New businesses must establish brand materials that complement the logo, as well as any necessary literature, email marketing templates, and, of course, the website design itself. Sly Nerds will work with you to assist you in choosing web-friendly colors, logo versions that can be used across several channels and materials, and a brand that is adaptable, portable, and vibrant.
Our Las Vegas Web Design Process
Sly Nerds offers web design services to Las Vegas businesses in need of a responsive, SEO-friendly website. Our web design projects are built on WordPress, which is one of the most widely used website building systems in Las Vegas. For Las Vegas website design projects, we have a simplified process that includes a full kickoff phone call, creating a wireframe, and making a design mockup. 
What's more, we never outsource our Las Vegas web design jobs, so you can rest assured that your project will receive the full attention it deserves from our USA-based web design team. Our web designers will be able to better manage the website building process for your Las Vegas company as a result of this.
We take simple, uncomplicated steps, whether this is your first website or you simply need to refresh and renovate your online presence to be mobile-friendly. We spell out each step as we work together to turn your website's needs into a real product.
Professional Web Design in Las Vegas
Top-Notch Web Design Services For Your Business
Increase Sales With Attractive E-Commerce Web Design
Websites That Help You Stand Out
Pivot message the initiative run it up the flagpole, ping the boss and circle back i also believe it's
We Create a Variety of Niche Websites in Las Vegas
In addition to being one of Las Vegas' top web design firms, we make it a top priority to create high-quality, eye-catching websites. Our Las Vegas web designer can create any style of website for any type of business, whether it's for an educational institution, a non-profit organization, an eCommerce store, a portfolio site, or a corporation.
Here are some of the niches that we can create websites for:
The essence of Excellent Web Design in Las Vegas
When creating or redesigning your website, keep these four goals in mind:
Is My Web Design Mobile Responsive?
How do I sign up for the free trial?
Everyone seems to be on their smartphones these days. Are they using Android smartphones? Should I create a mobile-only website based on the number of iPhone users? About 30–60% of your website traffic will originate from mobile devices, which is a significant amount of traffic. This is why having an adaptable website is more crucial than ever.
You might be wondering what a responsive website is. Right now, if you're on a desktop, enlarge the top right-hand corner of the screen. The elements on the website move with you when you shrink or expand the window. Gone are the days of zooming into the website's top corner, then zooming out, zooming in, and so on. One of the most significant aspects of today's internet design is a responsive website.
Some signs of a terrible website design are:
   Images that have low quality. Do away with pixelation.

Excessive use of stock images. Your customers will notice this it won't portray you as a serious business owner.

Website colors that do not match or do not match your logo. Ensure you always use your predefined color palette.

A website that lacks organization. If you have a page titled "web design," then such a page should be about web design.

Incorrect or no contact information. You're losing money if your prospects can't reach you.

Poor UX design. A website is poorly designed if you get lost in it, can't find what you're looking for in less than two seconds after arriving at a page, or if the menu is four rows long.
How Sly Nerds Can Improve Your Website's Performance
Optimizing your company's website can be a daunting task if you're doing it on your own. Themes, plugins, and content management systems range from one website to the next. One update destroys another, and before you know it, your website has a fatal issue and you don't know how to fix it. We prefer to take a strategic approach to optimization. From the style and feel to the content and navigation flow of the website, we ensure that your website is built on a solid and scalable foundation.
Here are some of the ways through which we improve your website's performance:
Rise is the best business partner that I have ever consulted! 😄
Are You Ready to Start Your Website Design Project in Las Vegas?
Your website is more than simply a place for people to find you on the internet. If done appropriately, your website should act as your brand's representative to customers. Show people that you are a valuable resource for what they need and they should contact you.
Our focus is on building your brand and knowing your goals so that we can combine outstanding design with a functional website. Our Las Vegas website design team will combine your brand, marketing strategy, and content into a single, coherent whole. This will make it easy for your website to flow together.
GET A FREE QUOTE RIGHT NOW
We are aware of your difficulties. We endeavor to be approachable, responsive, and cost-effective. We understand how critical it is to find a website design agency you can trust in order to increase your online visibility. Please provide us with some information about your website's objectives, and we will provide you with a free quote.
Take the boost with Sly Nerds!
Ready to launch your brand to even newer heights? We heard you loud and clear! Get in touch with us and level up your business with us.